Our Story
When it came to developing our unique blend of Pure Canadian Maple Syrup, we at Mazzocato Maple farm want to introduce a new premium taste experience. Whether it's for simple pancakes or the most discerning of gourmet recipes, when it comes to flavour, your syrup is either going to make it undeniably memorable, or simply forgettable. Tapped exclusively from our 100 acre woodlot in the heart of Southern Ontario, Mazzocato Maple Farm honours traditional harvesting techniques with scientific process and diligence, ensuring efficiency in sap collection. We analyze each drop for the best colour, taste and consistency. Every time. So whether you prefer the subtle after-taste of our Light maple syrup, the smooth flavour of our Medium, the perfect maple goodness of our Amber, or the premium taste of our Extra dark, Mazzocato Maple Syrup has a blend made for the memories… Because that's what it's all about. Mazzocato Maple Syrup – You're going to love it!
Our Family & Friends
The Mazzocato Maple Farm has been family owned & operated for over four years by husband and wife Mark & Kristi, along with their children, who will no doubt be taking part as well in the years to come. Our entire family has always supported our maple farming dream and we invite you to join our extended Mazzocato family by coming to visit us, and trying some of our 100% Pure Mazzocato Maple Syrup. Here at the Mazzocato Maple farm, we work in a co-op arrangement with the crew down at Shady Grove Maple Company in Woolwich, Ontario. Our long time friends and next door neighbours, the Roy family help out around the farm as well. We are also proud to shoutout our fellow Campbelville Maple Syrup Farmers over at Martin's Sweet Farm ! We love our friends!
Our Process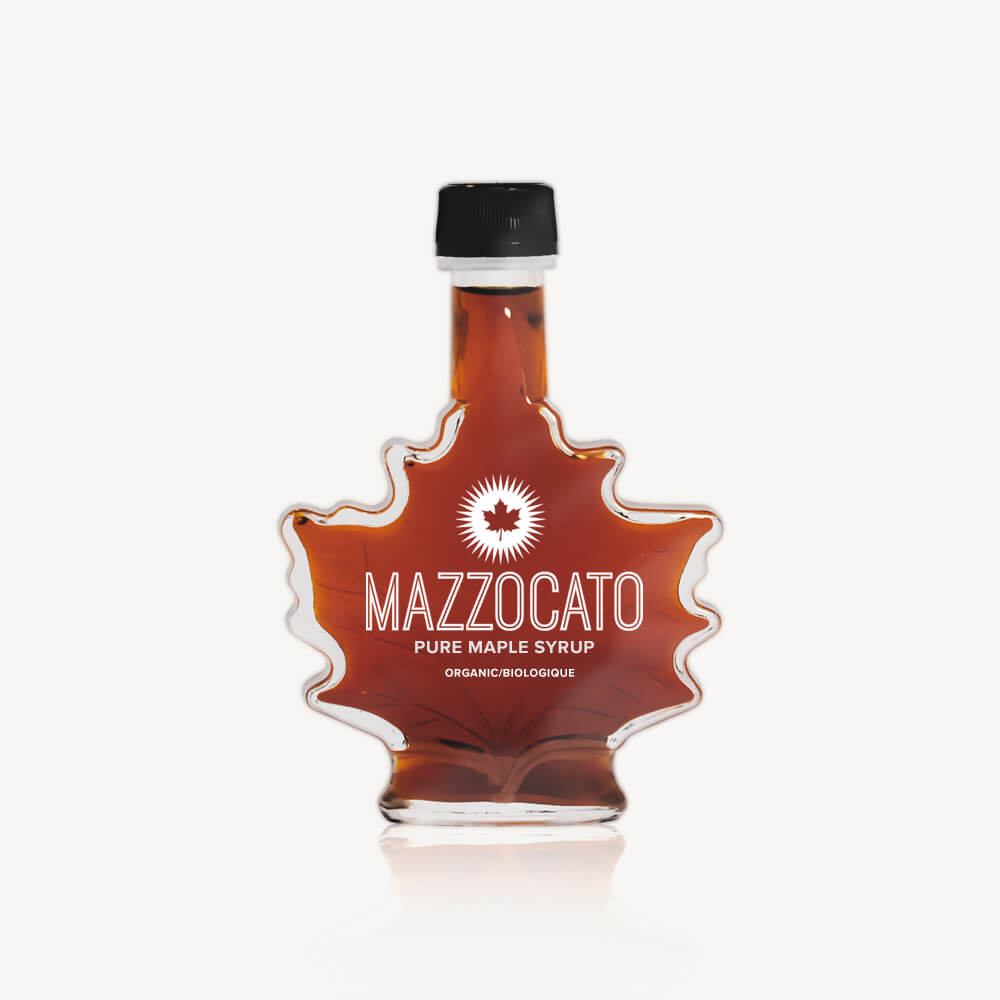 The Mazzocato Maple Farm originated in Mulmur, Ontario on a 10 acre woodlot. There were approximately 250 taps and pails that produced approximately 250 – 300 litres of finished syrup. The Maple Farm has since relocated to Campbellville, Ontario onto a 100 acre woodlot. The operation now uses vacuum lines to gather sap from approximately 1100 taps. The vacuum operation is much more efficient than the pails and many more taps will be added in the near future. With the use of an environmentally friendly wood fired evaporator and reverse osmosis technology, approximately 1500 litres of high quality pure maple syrup is made every season! In the future, we hope to expand our operations to an even larger scale!
Bottling
Our syrup is heated, filtered, and bottled at temperatures above 180 degrees Fahrenheit. Our bottles are vacuum sealed to ensure freshness, and we use glass bottles so our customers can see the colour and clarity of our pure, delicious syrup.
The Numbers
It takes 40 litres of sap to produce 1 litre of finished syrup. Batches of 100-200 gallons of sap are boiled continuously for 10-16 hours. 100 gallons of sap requires approximately 1 face cord of firewood, depending on the type of wood and sugar content in the sap. Extremely long, consecutive days are required for about 2 months to harvest and refine our pure maple syrup.
Organic by Nature/Eco-cert
Pure maple syrup is made by boiling off the water from the sugar. There is nothing added or altered at any point, and only food grade containers and tools, mostly stainless steel and glass, are used to handle it. The colour and flavour of pure maple syrup is entirely dependent on the trees and soil in the local area. Lighter syrup is from earlier in the seasons harvest and the colour gets progressively darker as the season progresses.
Ecocert Canada, as a certification body, is committed to:
Verifying that production standards are met through annual and surprise audits, and product analysis;
Delivering, following inspection, a certificate that confirms products that comply with the organic standard;
Offering a swift, high-quality service for access to different target markets.