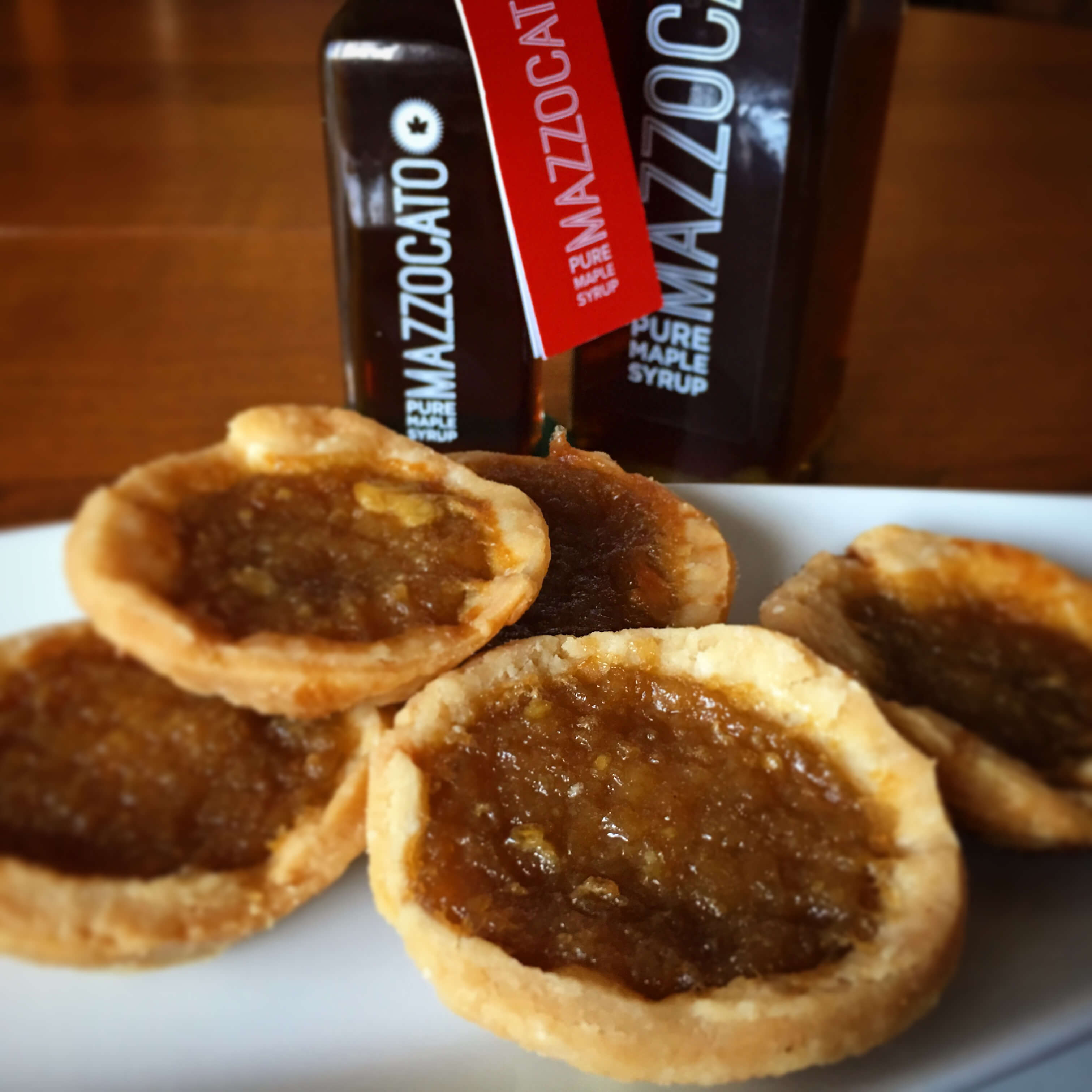 These mouth watering little tarts are full of maple syrup goodness. Enjoy them with your favorite cup of tea or coffee as you sit back relax. Makes 12 tarts. Prep time 30min baking time 25.
Maple Butter Tarts – Recipe by Athena O
Pastry:
5 ½ cups all purpose flour
2 teaspoons salt
1 lb lard, cold
1 egg, stirred slightly
1 tablespoon vinegar
water, cold
Filling:
½ cup Mazzocato Maple Syrup
1/8 cup butter, room temperature
¼ brown sugar
1 teaspoon vanilla extract
¼ teaspoon lemon juice
1 egg
Directions:
1. Preheat the oven to 375 deg
2. Mix together in a large bowl flour and salt. Add lard. Using either a pastry blender or two knifes, mix together until crumbly. In a glass cup, beat egg and vinegar together. Add enough water to make 1 cup. Pour liquid slowly in to flour mixture. Mixing with a fork until the dough sticks together in a ball (all the liquid may not be needed).
3. Divide dough into equally into 6 balls. Wrap in plastic wrap. Chill in refrigerator for 1 hour. Dough can be stored for 2 days in the refrigerator or 2 months in the freezer.
4. While the dough is chilling, mix butter and sugar together. Add egg, vanilla, lemon juice and maple syrup to create the filling.
5. Remove dough from fridge and roll dough out on lightly floured surface. Using a round cookie cutter or the top of a round glass jar, cut into 3 ½ inch circles (approx.). You will need 12 round circles for 12 butter tarts. The rest of the dough you can freeze. Place the dough in a muffin pan or bakers tins. Add filling until tarts are full.
6. Bake for 25 minutes or the crust has a golden colour. Remove tarts from oven, cool down and enjoy!